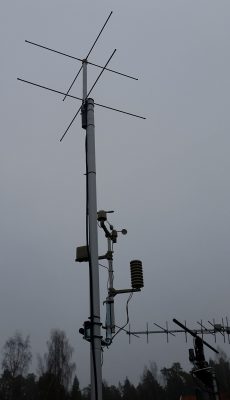 English summary below!
Efter att ha använt en N9TAX VHF/UHF-antenn som fast mottagningsantenn bestämde jag mig för att prova en antennmodell av typ Crossed Dipole. Den modell jag använder är från tillverkaren stanislavpalo130 som säljer sina antenner via eBay. Det är en Vinnant Turnstile Antenna och är fast högercirkulär (RHCP) i sin polarisation.
Med den vertikala N9TAX-antennen så har jag haft flera fading-dippar under en passage då satellitens (tex. AO-73 Funcube-1) polarisation förändras. Blir det då bättre med en Crossed Dipole-antenn?
Svaret är ja! De tester jag gjort med satelliten EO-88 (Nayif-1) har jag mottagning under hela passagen och fadingen är märkbart mindre jämfört med den vertikala N9TAX. Närmare horisonten (under ca. 20 graders elevation) är dock N9TAX bättre vilket stämmer väl överens med det strålningsdiagram som gäller för den vertikala antennen.
Sett över hela satellitpassagen blir det dock betydligt fler telemetripaket avkodade med Crossed Dipole-antennen.
Jag använder en LNA av modell LNA4ALL som sitter direkt monterad vid antennens kontakt, se bild nedan: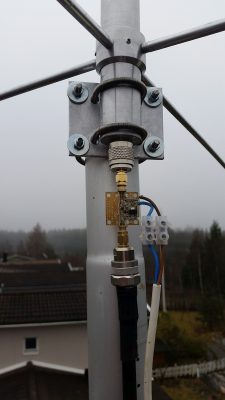 Och med kaplsing runt LNA blir resultatet enligt bild nedan: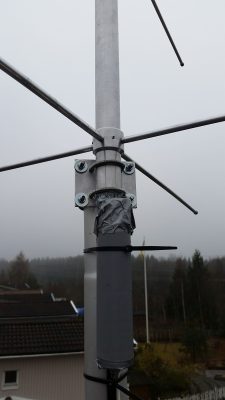 Sammanfattning: En Crossed Dipole-antenn är att rekommendera vid mottagning av satelliter i de fall man inte har möjlighet till större antennen.
English summary:
I have used a vertical dualband VHF/UHF antenna of model N9TAX (Slim-Jim) for a while when receiving satellites. It has worked well but fading from the satellite when it switching polarization is sometimes big during a pass. Now I have tried a Crossed Dipole antenna with RHCP polarization from eBay user stanislavpalo130.
I have tested the antenna mainly on NAYIF-1 (EO-88) and it's working very well with much less fading compared with the N9TAX antenna. As you can see in the pictures above I'm also using a LNA of type LNA4ALL directly at the antenna feedpoint.
I can recommend this type of antenna if you want to use a fixed type antenna for receiving satellites.