For english information please visit AMSAT-DL.
Uppdaterad: December 2023
Länkar
Numera finns hur mycket information som helst genom att söka på Google. Nedanstående är bara ett axplock av artiklar:
Utrustning
Här finns länkar till lämplig utrustning att bygga och företag som säljer tillbehör (finns dock många fler – sök på Google):
Föredrag av SM3BYA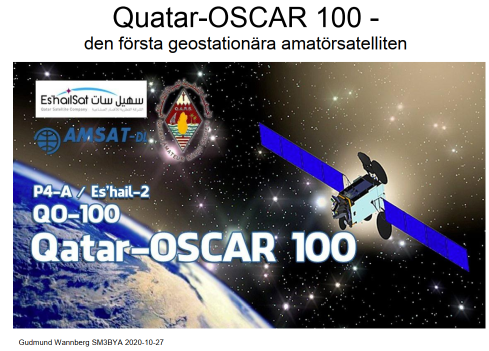 Vi har fått tillåtelse att publicera Gudmund Wannberg SM3BYA fina föredrag från oktober 2020. Ladda ner den här (PDF).
Bandplan och frekvenser
Gällande publicerad Narrowband (NB) bandplan från april 2021 är följande (all information kommer från AMSAT-DL):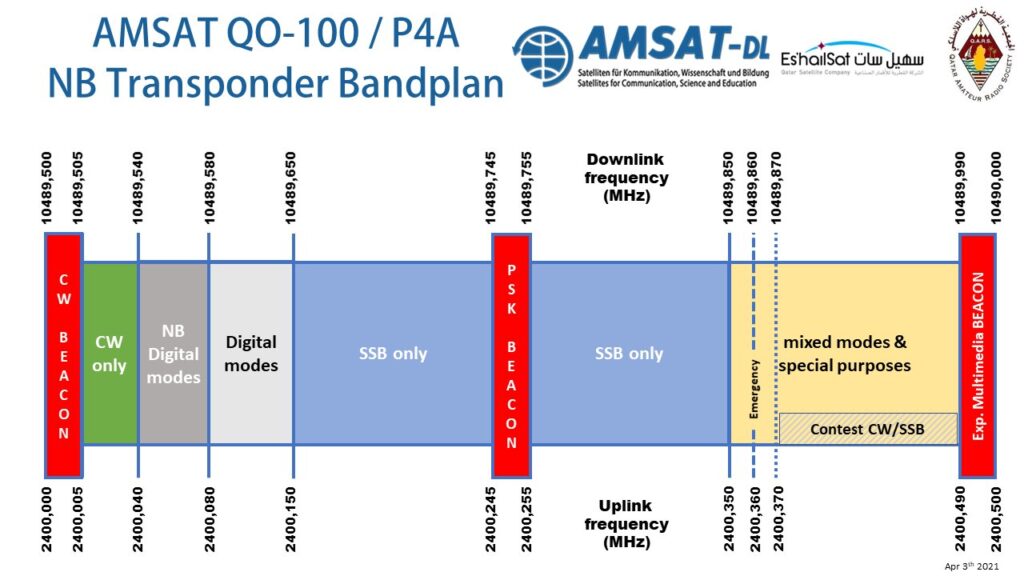 Viktiga "kom ihåg":
NO FM mode is allowed on the transponder.
No transmission below the lower beacon and no transmission above the upper beacon.
The NB transponder is a bent-pipe transponder and non-inverting.
Uplink polarization is RHCP (right-hand circular polarization).
Downlink polarization for the NB transponder is V (vertical linear polarization).
Monitor the beacons and keep your own signal level below, otherwise you might trigger LEILA warnings.
Please use minimum uplink power (ERP).
The beacons are modulated in 400 bit / s BPSK (similar to the P3 satellites) or in CW.
The beacons are generated in the ground station and will Provide selected telemetry from the main satellite related to our amateur radio transponder.
Täckningskarta
Täckningskartorna nedan är imponerande, bara att njuta och använda! Klicka för större bild.