Info about AMSAT-SM
The Swedish Amateur Satellite Group
AMSAT-SM is the Swedish section of AMSAT with aprox 220 members (2018). One of our objectives is to inform Swedish hams about the fun with amateur satellites! Not many SM hams are active via satellite at the moment. With the help from our swedish webpage and HF-net we hope that more swedish hams should be using amateur satellites.
The AMSAT-SM annual meeting is held every spring. Some weeks on Sundays we have a HF-net on 80 meters with lots of news about satellites and space.
In november 2017 AMSAT-SM donated $ 285 USD to the ARISS project for amateur radio on ISS.
In april 2015 AMSAT-SM donated $ 1600 USD for the FOX satellite project. "AMSAT-SM believe that FOX project is very important to continue to develop amateur radio on board satellites. We therefore hope that our contribution can help the FOX satellites up in space."
Committee:
Chairman
Håkan Harrysson – SM7WSJ
Secretary
Lars Thunberg – SM0TGU (also Webmaster)
Treasurer
Kim Pettersson – SM1TDX
Please join AMSAT-SM – membership is open to anyone and free! 
AMSAT-SM and ARISS Europe
AMSAT-SM is a member of ARISS Europe for coordination and support of ARISS contacts.
AMSAT-SM website
AMSAT-SM is using the Internet homepage for members information and news. You can find articles, news, links and lots of more information about satellites. The large main page is only in Swedish because there are allready a lot of good sites about amateur satellites in english. We provide the following information:
FAQ and technical page
New amateur satellites update
Latest telemetry from several microsats
A news service on the homepage called e-Journal
Active on Twitter, Facebook and Youtube. See links on right frame on webpage.
AMSAT-SM has a mailing list (just like the AMSAT-BB list) that was started in 1998. Most of the mail are in swedish, but you are welcome to subscribe.
Send an e-mail to: amsat-sm-subscribe@yahoogroups.co.uk
Contact: You can reach AMSAT-SM at:
AMSAT-SM
c/o Lars Thunberg
Revirvägen 17
192 73 Sollentuna
Sweden
E-mail:
info@amsat.se
Compendia
A compendia of articles previously published in Journal (only in Swedish) can be downloaded from our homepage for free. This has been a success!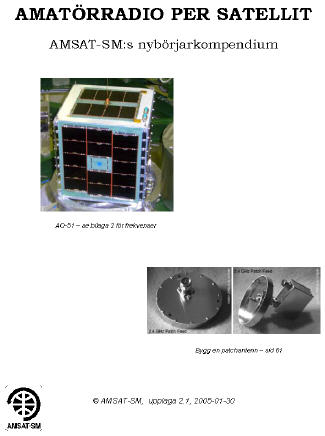 AMSAT-SM Journal
AMSAT-SM Journal was the name of our newsletter sent out to our members. The old name was "AMSAT-SM INFO". Most of the articles was in Swedish. Unfortunately, at this moment the Journal is in "sleep mode" since the activity of AMSAT-SM is very low and the last issue was published in 2010.