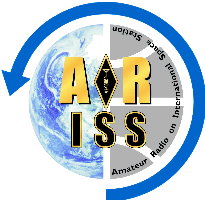 ARISS, (Amateur Radio on the International Space Station), är ett program som erbjuder studenter och skolor att prova på amatörradio genom kontakt med rymdstationen ISS. ARISS utvecklar, köper in och testar även den utrustning som används ombord. ARISS består idag av fem regioner; USA, Canada, Ryssland, Europa och Japan.

Mål för ARISS
ARISS grundades 1996 med följande mål:
1.SERVE as an educational outreach tool,
2.BE an outreach to the amateur radio community and the general public,
3.ALLOW a method for crews to maintain contact with family and friends while on orbit (to improve crew psychological factors),
4.PROVIDE an experimental communications test bed,
5.OFFER a back up communications link for emergencies, and
6.PROVIDE public information to the grass-roots public.
Vilka sponsrar ARISS?
Amatörradioföreningear och rymdorganisationer i USA, Ryssland, Kanada, Japan och Europa sponsrar detta intressanta projekt. Även hundratals radioamatörer jobbar ideellt bakom kulisserna för att få allt att fungera.
Följande IARU och AMSAT-organisationer deltar i ARISS:
1.USA: ARRL, AMSAT
2.Ryssland: SRR,
3.Kanada: RAC, AMSAT-Canada
4.Belgien: UBA, AMSAT-Belgium
5.Frankrike: REF, AMSAT-France
6.Tyskland: DARC , SAFEX for AMSAT-DL
7.Italien: ARI, AMSAT-Italia
8.Portugal: REP, REP-AMSAT.
9.Japan: JARL. JAMSAT

ISS-antenner
MAREX-NA (Manned Amateur Radio Experiment, North American Division)
MAREX var det projekt som låg bakom amatörradion ombord på MIR. Några av de som jobbar inom ARISS idag startade sitt arbete inom MAREX.
Historien
Klubben startades 1991 och har ändrade namn några gånger. Allt började -91 när Dave Larsen (N6CO/N6JLH) och Miles Mann (WF1F) startade en klubb med målet att koordinera skolkontakter med den ryska rymdstationen MIR, ge teknisk support till MIRs amatörradioutrustning och även ge amatörradionträning för MIRs besättning.
1996 fick den ryska klubben Energia Radio Club namnet MAREX-RU och MAREX bytte namn till MIREX (Mir international Radio Experiment). Ordet "International" var bättre eftersom MAREX inte ville se sig själva som en amerikansk klubb.
I november 1996 bjöds MIREX in till det första "Amateur Radio International Space Station"-mötet i Houston, där även representanter från ryska Energia fanns med. Energia föreslog fyra antennanslutningar på ISS (den nya internationella rymdstationen) som skulle användas för amatörradio. Ett av huvudmålen med detta möte var att skapa en organisation för amatörradio ombord på ISS, och detta fick namnet ARISS (Amateur Radio International Space Station). Meningen var att endast en grupp skulle hålla i alla projekt.
Detta såg bra ut på papper men mötte inte de verkliga kraven. I maj 1998 delades MIREX i två klubbar/grupper. En grupp med Dave Larsen som fungerade som QSL-manager, packetoperator och hjälpte skolor med kontakter med MIR. Den andra gruppen bildade MAREX-NA.
MAREX-NA har utvecklade och levererade tre system; 1997 ett filter som gjorde att MIRs packetstation kunde användas samtidigt som de övriga radiosystemen ombord. Februari 1998 uppgraderades packetmodemet till en Kantronics KPC-9612 som hade mer minne och möjlighet till remote sysop-uppkoppling. December 1998 kom det största projektet, SSTV.
Hela systemet byggdes ihop till ett enda paket som hårdtestades för att kunna garanteras bra funktion. En "auto controller" som skötte om den komplicerade kommunikations- och timerkontrollen utvecklades av Hank Cantrell (W4HTB). Fyra system byggdes varav tre skickades till Ryssland i juni 1998. SSTV-projektet var aktiv från dec. -98 till aug. -99. Över 2000 bilder sändes från MIR till jorden och finns nu på ett antal olika hemsidor och har även publicerats i ett flertal tidningar.
Några av medlemmarna i MAREX-NA har varit:
Miles Mann WF1F Henry Cantrell W4HTB Boris Garber Don C. Miller W9NTP Chris Scott WB9NEQ Farrell Winder W8ZCF John Langner, W2OSZ Wayne Nakata N1WPN
MAREX fortsätter idag med sitt arbete för ISS.
För mera info, se dess hemsida.