For english summary please scroll down:
Här kommer en sammanfattning över medlemsstatus och AMSAT-SMs internet- och informationsaktivitet från 2022.
Medlemsstatus
AMSAT-SM hade vid årets slut​ 301​ medlemmar att jämföra med 304 medlemmar för 2021. Ingen har aktivt gått ur under året men en manuell rensning har skett.
Twitter och Youtube
Via Twitter har vi en fortsatt ökning av följare – just nu (31 dec 2022) 1687 ​följare jämfört med ​1382 ​följare i slutet av 2021. Det internationella intresset för AMSAT-SM blir starkare för varje år som går vilket är mycket glädjande!
Youtube-kontot var även 2022 ganska inaktivt med få nya inlägg pga. tidsbrist, det tar tid att göra intressanta videos.
Hemsidan
Sidan rullar på med artiklar runt telemetri, nya satelliter och guider. Den enda större förändringen under året var att artiklarna och menyerna strukturerades om något.
Kostnaden för hemsidan fortsätter att sponsrad av Lars SM0TGU.
Webstatistik
Jämfört med 2021 ser vi ett något högre besöksantal under 2022.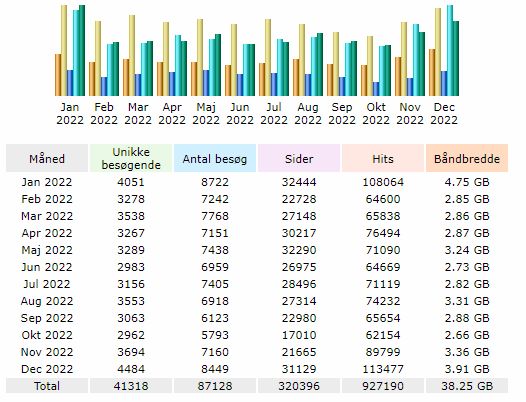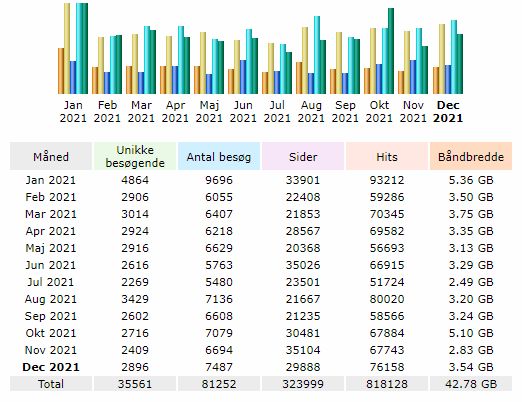 HF-nätet
På HF nätet har vi träffats varje söndag klockan 10 med antingen SK7TX eller SK4TX vid rodret. Brukar vara ett litet antal personer incheckade samt ett flertal lyssnare. Vi kör dagsaktuell information och möjlighet till frågeställning om det är något man funderar på.
English summary
The current number of members of AMSAT-SM are 305. Note that we have no members fee as our activity is mostly information.

Followers on Twitter are (at the end of 2022) 1687 ​compared with 1382 ​at the end of 2021. We are very happy for all new followers – thank you!
We also see some increase in the web traffic for 2022. See the statistic image above.