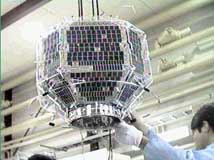 Info from ANS-121:
Regarding Fuji 3 (FO-29), we are currently in a situation where continuous operation is not possible as the satellite is eclipsing on every orbit and the condition of the batteries does not permit continuous operation. From now on, we will enter the eclipse period for about 3 months. It will be fully sunlit from August to next spring, so continuous operation will be possible.
This eclipse period is about 3 months, and the maximum eclipse percentage is about 20%.
The operation from the end of April to the end of May will from when the analog transponder is turned on until the transponder is turned off by UVC (undervoltage control).
[Scheduled time to turn on the analog transponder of Fuji 3 (UTC)]
May
1 09:55
7 09:45
8 08:45
14 10:18
21 09:10 22:00
22 09:55
27 23:28
28 09:35
[ANS thanks JARL for the above information]