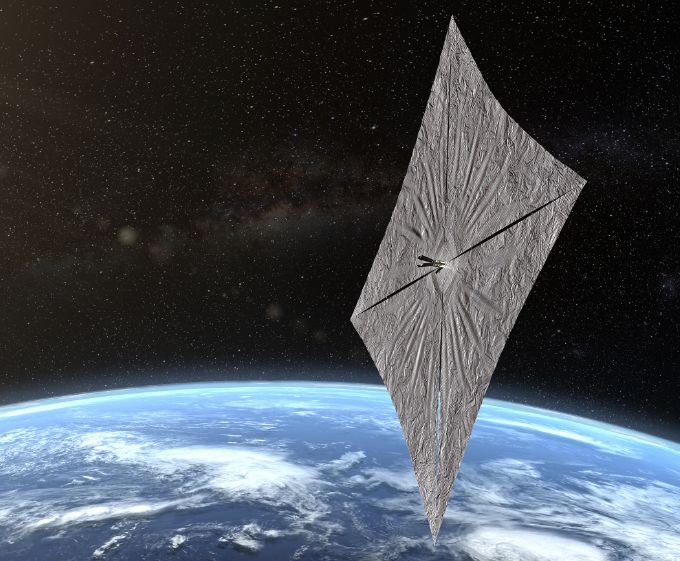 Lightsail-2 Scheduled for Launch June 24 – Beacon on 437.025 MHz
LightSail is a citizen-funded project from The Planetary Society.
This cubesat will be propelled solely by sunlight, to Earth orbit.
LightSail 2 is scheduled to launch aboard a SpaceX Falcon Heavy on
June 24, 2019, and we will attempt the first, controlled solar sail
flight in Earth orbit.
LightSail 2 will ride to space aboard the Department of Defense
Space Test Program-2 (STP-2) mission which will send 24 spacecraft
to 3 different orbits. LightSail 2 itself will be enclosed within
Prox-1, a Georgia Tech-designed spacecraft originally built to demon-
strate close-encounter operations with other spacecraft. Prox-1 will
deploy LightSail 2 seven days after launch.
After a few days of health and status checks, LightSail 2's four
dual-sided solar panels will swing open. Roughly a day later, four
metallic booms will unfurl four triangular Mylar sa ils from storage.
The sails, which have a combined area of 32 square meters [344 square
feet], will turn towards the sun for half of each orbit, giving the
spacecraft a tiny push no stronger than the weight of a paperclip.
For about a month after sail deployment, this continual thrust should
raise LightSail 2's orbit by a measurable amount.
LightSail 2 will fly in a 24-degree inclination, 720 km, circular
orbit. At latitudes of 42 degrees north it will reach a maximum
elevation of 10 degrees above the horizon.
Lightsail-2 has been issued an experimental radio license WM9XPA and
transmit on 437.025 MHz. A morse beacon will transmit the callsign
every 45 seconds. A packet beacon will transmit AX.25, FSK 9K6 bps
data.
Beacon information is available at:
http://tinyurl.com/ANS-153-Lightsail-Morse-Beacon
Documentation of the downlink telemetry data structure is posted at:
http://tinyurl.com/ANS-153-Lightsail-Telemetry
[ANS thanks the Planetary Society for the above information]
———————————————————————
NASA Lightsail-2 PR and TV Coverage
NASA Television coverage is scheduled for an upcoming prelaunch
activity and first nighttime launch of a SpaceX Falcon Heavy rocket,
which will be carrying four agency technology missions to help
improve future spacecraft design and performance.
The launch window for the Falcon Heavy opens at 11:30 p.m. EDT
Monday, June 24, from historic Launch Complex 39A at NASA's Kennedy
Space Center in Florida. The launch, as well as a live technology
show, will air NASA Television and the agency's website.
SpaceX and the U.S. Department of Defense will launch two dozen sat-
ellites to space, including four NASA payloads that are par t of the
Space Test Program-2, managed by the U.S. Air Force Space and Missile
Systems Center. The four payloads include two NASA technology demon-
strations to improve how spacecraft propel and navigate, as well as
two NASA science missions to help us better understand the nature
of space and how it impacts technology on spacecraft and the ground.
Full NASA TV coverage is as follows: (all times EDT)
Sunday, June 23
. Noon – NASA prelaunch technology TV show from Kennedy.
Subject matter experts will explain each NASA mission and answer
questions.
Monday, June 24
. 9:30 p.m. – Live NASA TV coverage begins of the return to
Earth of NASA astronaut Anne McClain and two other International
Space Station residents, with landing scheduled at 10:48 p.m.
(Public Channel)
. 11 p.m. – NASA TV launch com mentary begins ahead of the
targeted 11:30 p.m. launch. NASA TV will simulcast the SpaceX STP-2
webcast starting about 15 minutes before liftoff. (Media Channel)
Prelaunch and launch day coverage will include blog updates as
milestones occur:
http://blogs.nasa.gov/spacex
Learn more about the NASA technologies aboard this launch:
https://www.nasa.gov/spacex