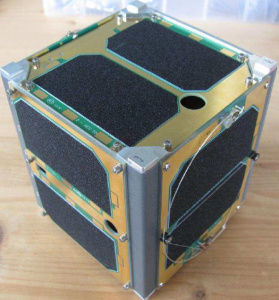 Lot of news about RadFxSat/Fox-1B in latest ANS:
SB SAT @ AMSAT $ANS-316.01
ANS-316 AMSAT News Service Weekly Bulletins
AMSAT News Service Bulletin 316.01
From AMSAT HQ KENSINGTON, MD.
DATE November 12, 2017
To All RADIO AMATEURS
BID: $ANS-316.01
AMSAT RadFxSat/Fox-1B Launch Delay – New Plan NET November 14
United Launch Alliance (ULA) announced on November 6 that the launch
of the Delta II rocket carrying RadFxSat has been delayed due to a
faulty battery on the booster. The launch is now scheduled for Tuesday,
November 14th at 09:47 UTC. NASA TV coverage begins at 09:15 UTC.
Web streaming will be available on www.nasa.gov/ntv – launches are
also often streamed at http://www.ulalaunch.com and spaceflightnow.com
Continue reading for what you can expect after the launch and how you
can help …
INTRODUCTION
RadFxSat is a partnership with Vanderbilt University ISDE and hosts
four payloads for the study of radiation effects on commercial off the
shelf components. RadFxSat features the Fox-1 style FM U/v repeater
with an uplink on 435.250 MHz (67.0 Hz CTCSS) and a downlink on
145.960 MHz. Satellite and experiment telemetry will be downlinked via
the "DUV" subaudible telemetry stream and can be decoded with the
FoxTelem software:
https://www.amsat.org/foxtelem-software-for-windows-mac-linux/ .
LAUNCH AND EARLY ORBIT PHASE (LEOP)
At this time, pre-launch Keplerian elements are not expected to be
available. However, based on the Local Time of the Ascending Node
(LTAN) of the primary payload, 13:30, stations should expect to have
their initial ascending passes starting around noon local time.
The estimated time of "First Veronica," the initial beacon after
deployment, is 12:07 UTC. Due to the tight constraints on the primary
payload deployment, the secondary payloads may be delayed slightly, so
this should be considered the soonest the transmitter will be enabled.
Orbital elements will be published as soon as they are available on
the AMSAT website. Stations in Europe, South America, and North America
should point your beams south and have FoxTelem running while awaiting
the initial post-launch Keplerian elements.
Participation in telemetry collection by as many stations in as many
parts of the world as possible is essential as AMSAT Engineering looks
for successful startup and indications of the general health and
function of the satellite as it begins to acclimate to space.
If you are capturing telemetry with FoxTelem please be sure that
"Upload to Server" is checked in your settings, and that your "Ground
Station Params" are filled in as well. You can help AMSAT and everyone
waiting to get on the air with RadFxSat tremendously by capturing
RadFxSat telemetry.
About 60 minutes after deployment, or 140 minutes after launch, the
satellite will start up in Beacon Mode. In this initial mode, the
transmitter is limited to 10 seconds on time and then will be off for
two minutes. For those of you capturing telemetry, that means that you
will only see Current frames and no High or Low frames. The High and
Low frames are truncated as it takes just over the 10 second limit to
send two frames. Veronica may also be cut off before she gets to say
her whole ID string as the full ID, "RadFxSat Fox-1B Safe Mode," is a
bit longer than the approximately 3.5 seconds she has in Beacon Mode.
If the voice ID is cut off, the satellite is still in Beacon Mode.
If AMSAT Engineering is seeing nominal values from the telemetry you
gather, the satellite will be commanded from Beacon Mode to Safe Mode
on the first good pass over the United States. In Safe Mode, the
satellite transmits a full two frames of telemetry (one Current frame
followed by, and alternating each ID cycle, a High or a Low frame).
Veronica now has time to make the whole ID announcement in Safe Mode.
The on-orbit checkout procedure for RadFxSat is similar to
Fox-1A/AO-85 and could be completed in as little as a few days if
users cooperate. It is very important, and good amateur operating
practice, to refrain from using the transponder uplink so the on-orbit
tests can be performed, including when the satellite is switched into
Transponder Mode for testing.
AMSAT will make it broadly known when the tests are complete and the
transponder is available for all to use. If you hear someone on the
transponder, please do not assume that it is open for general use –
check AMSAT's website, Facebook, and Twitter before transmitting to be
sure you do not interfere with testing.
AMSAT asks all satellite operators to contribute just a little bit of
your time by gathering telemetry, not using the transponder uplink, to
help complete the last few days of getting RadFxSat operating for the
amateur radio community.
Lots of hams put thousands of volunteer hours of their time into
making RadFxSat happen. Just like any ham radio project you might
undertake, AMSAT builds satellites. AMSAT volunteers do it because
they like to, and when they are done, AMSAT freely shares their
project with hams everywhere as is the spirit of amateur radio.
Thank you very much and see you on the bird!
RADIO PROGRAMMING CHART
RadFxSat (Fox-1B) Doppler Shift Correction
Memory 1 (AOS)     – TX 435.240 MHz (67.0 Hz Tone), RX 145.960 MHz
Memory 2 (Rise)    – TX 435.245 MHz (67.0 Hz Tone), RX 145.960 MHz
Memory 3 (TCA)     – TX 435.250 MHz (67.0 Hz Tone), RX 145.960 MHz
Memory 4 (Descend) – TX 435.255 MHz (67.0 Hz Tone), RX 145.960 MHz
Memory 5 (LOS)     – TX 435.260 MHz (67.0 Hz Tone), RX 145.960 MHz
Frequencies are subject to change post-launch.
[ANS thanks AMSAT Vice-President Engineering, Jerry Buxton, NØJY, for the
above information]
———————————————————————
FoxTelem V.1.05 Available for Download – Including Update Patch
Given the United Launch Alliance Delta II launch delay to November 14
you have time to download and install AMSAT's FoxTelem Version 1.05
telemetry capture, decoding, and data warehousing software so your
ground station can participate and assist during the commissioning of
RadFxSat/Fox-1B.
If you have already installed FoxTelem Version 1.05w in preparation
for RadFxSat it is recommended that you install an update patch. This
will upgrade you to 1.05x.
This patch fixes the following bugs with v1.05w or earlier 1.05
releases:
* When two spacecraft are tracked and "When Above Horizon" is set to start
and stop the decoder, the decoder NEVER starts.
* If the matched filter is selected for DUV then FoxTelem crashes
* When a spacecraft is being decoded, the position is not updated on the
screen
* When the decoders is automatically stopped/started, then the FunCube
Dongle becomes disconnected
To apply this patch simply copy the jar file into your Version 1.05
installation directory and overwrite the existing file.
If you are running FoxTelem Version 1.04f or earlier, you should install
the full release for Version 1.05x
The files for the full release and the update patch are here:
http://amsat.us/FoxTelem/windows/
http://amsat.us/FoxTelem/linux/
http://amsat.us/FoxTelem/mac/
The download package includes the latest version of the FoxTelem User
Guide.
[ANS thanks Chris, G0KLA/AC2CZ for the above information]
———————————————————————
RadFxSat Telemetry Reception Challenge
Get FoxTelem set up and ready to go on Tuesday! The first amateur
radio operator that successfully receives RadFxSat (Fox-1B) telemetry
and uploads it to the AMSAT server will receive a commemorative 3D
printed QSL card.
RadFxSat is scheduled for launch at 1:47am PST (09:47 UTC) on Tuesday,
November 14th from Vandenberg Air Force Base, California. The first
transmission from RadFxSat is expected to occur around 12:07 UTC. Due
to a lack of prelaunch Keplerian elements, it is not known exactly
where the satellite will be when it makes it's first transmission.
For further details regarding the Launch and Early Orbit Phase (LEOP)
of RadFxSat operations, please see:
https://www.amsat.org/getting-ready-for-radfxsat-fox-1b/
[ANS thanks Paul N8HM for the above information]
———————————————————————
Special Membership Offer for RadFxSat Launch
As part of the preparations for the launch of RadFxSat on November
10th, AMSAT is making our "Getting Started With Amateur Satellites"
book available for a limited time as a download with any paid new
or renewal membership purchased via the AMSAT Store. This offer is
only available with purchases completed online, and for only a limited
time. A perennial favorite, Getting Started is updated every year
with the latest amateur satellite information, and is the premier
primer of satellite operation. The 182 page book is presented in PDF
format, in full color, and covers all aspects of making your first
contacts on a ham radio satellite.
Please take advantage of this offer today by visiting the AMSAT store
at https://www.amsat.org/shop/ and selecting any membership option.
While there, check out our other items, including the M2 LEOpack
antenna system, Arrow antennas, AMSAT shirts, and other swag.
Thank you, and see you soon on RadFxSat!
[ANS thanks Paul N8HM for the above information]
———————————————————————
Fox-1D Integrated, Ready for Launch
While RadFxSat (Fox-1B) is just days from launch, preparations for the
launch of the next Fox-1 satellite are already underway. On Monday,
November 6th, AMSAT Vice-President Engineering Jerry Buxton, N0JY, delivered
Fox-1D to Spaceflight, Inc. in Seattle, WA where it was integrated into its
Innovative Solutions in Space QuadPack for delivery to India. Fox-1D will
launch on the next ISRO Polar Satellite Launch Vehicle (PSLV) flight, sched-
uled to take place by the end of December.
In addition to the Fox-1 U/v FM transponder, Fox-1D carries several univer-
sity experiments, including a MEMS gyro from Pennsylvania State University–
Erie, a camera from Virginia Tech, and the University of Iowa's HERCI (High
Energy Radiation CubeSat Instrument) radiation mapping experiment. Fox-1D
also carries the AMSAT "L-Band Downshifter" giving the option of utilizing
a 1.2 GHz uplink for the FM transponder.
Fox-1D
——
Uplink:   435.350 MHz FM / 1267.350 FM MHz * (67 Hz CTCSS)
Downlink: 145.880 MHz FM
* Switchable by command station. Not operational simultaneously.
Read the full article, including photos, on the AMSAT web:
https://www.amsat.org/fox-1d-integrated-ready-for-launch/
[ANS thanks Paul Stoetzer, N8HM for the above information]
———————————————————————
NASA ELaNa XX Mission Launching RadFxSat-2/Fox-1E Set for NET
End of Q1 2018
AMSAT has been informed that the launch for the NASA Educational
Launch of Nanosatellites (ELaNa) XX mission carrying RadFxSat-2
(Fox-1E) is now scheduled "No Earlier Than" (NET) the end of Q1,
2018.
In addition to RadFxSat-2, the ELaNa XX mission will carry 12
CubeSats constructed both by NASA and several universities around
the United States. The mission will be launched by Virgin Galactic
on their LauncherOne air launch to orbit system from Mojave, CA
RadFxSat-2, like RadFxSat (Fox-1B), is a partnership opportunity
between the Vanderbilt University Institute for Space and Defense
Electronics and AMSAT and will carry a similar radiation effects
experiment, studying new FinFET technology.
RadFxSat-2 will be the fifth Fox-1 satellite built by AMSAT. Fox-1A,
now AMSAT-OSCAR 85 (AO-85), was launched on October 8, 2015 and is
fully operational, providing science data from it's onboard experi-
ments and FM transponder service for the amateur radio community.
Fox-1Cliff and Fox-1D are scheduled for launch soon. RadFxSat/Fox-1B
is scheduled to launch November 10, 2017.
The RadFxSat-2 spacecraft bus will be built on the Fox-1 series but
will feature a linear transponder "upgrade" to replace the standard
FM transponder in Fox-1A through D. In addition, the uplink and down-
link bands will be reversed from the previous Fox satellites in a
Mode V/u (J) configuration using a 2 meter uplink and 70 cm downlink.
The downlink will feature a 1200 bps BPSK telemetry channel to carry
the Vanderbilt science data in addition to a 30 kHz wide transponder
for amateur radio use.
[ANS thanks the AMSAT Engineering and Operation Teams for the above
information]