Okt 16 2014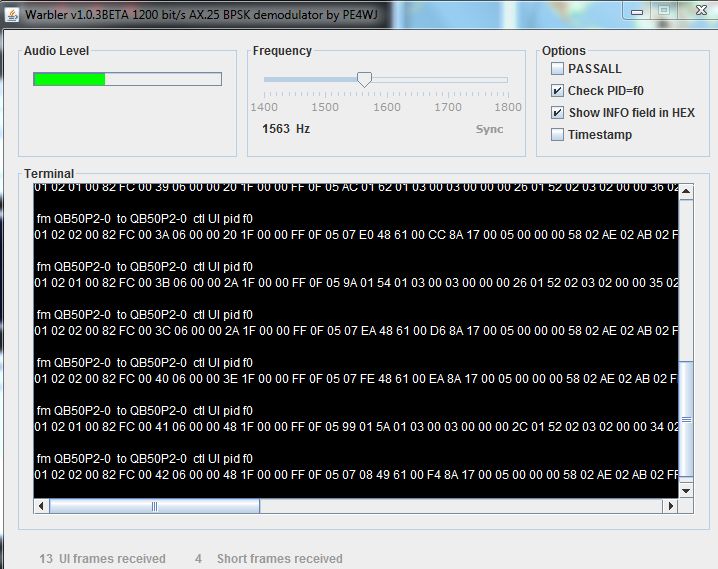 Warbler is a Java software which can be used to demodulate a 1200Bit/s AX.25 BPSK signal. The software is from 2007 and made by PE4WJ. Warbler generates a KISS-file which can be imported to several telemetry decoding software made by DK3WN.
I have used Warbler for ex. QB50p2 satellite with very good result. I think the software is very good and more simple to decode signal compared with MixW.
Link to download: http://members.casema.nl/b.ubbels/Warbler.htm
---
Warbler är ett litet Java-program som används för att demodulera 1200Bit/s AX.25 BPSK-signal. Programmet har ett par år på nacken, det är från 2007, men fungerar utmärkt. Det är skrivet av PE4WJ. Warbler genererar även en KISS-fil som är en binär fil med data. Filen importeras sedan i ett av flera program för att avkoda telemetri som DK3WN har gjort.
Jag har provat Warbler för satelliter QB50p2 och det fungerar utmärkt. Jag tycker det är mycket enklare att använda än MixW som är ett av de få program som kan användas för liknande uppgift.
Dock har jag inte sett någon möjlighet att skicka ljudet internt i datorn till Warbler utan man måste koppla hörlursutgången till mic-kontakten (detta i fallet då man kör SDR-programvara). Detta löses enkelt med en förgreningskontakt på hörlursutgången så att man fortfarande kan ha medhörning. Se bild nedan. OBS! Om du har en separat radio behöver du självklart inte denna lösning utan då kopplar du bara hörlursuttaget från radio direkt till mic-ingången på datorn.
Länk till programmets hemsida: http://members.casema.nl/b.ubbels/Warbler.htm